About the sauna
---
Part of Finnish culture is the Finnish sauna! A traditional Finnish sauna experience protects against cardiovascular disease, aids relaxation, rheumatoid diseases, chronic fatigue and pain syndromes. It also reduces stress, improves exercise performance, muscle recovery and the skin's moisture barrier properties.
Book your sauna session exclusively for yourself, your loved one or for a party!
Request information
Details
Book private sauna session for 1 or 2 people
Book sauna session with food & drinks from restaurant (up to 10 people)
Book sauna + meeting room with food & drinks from restaurant (up to 20 people)
Order any restaurant meal or drink delivered to sauna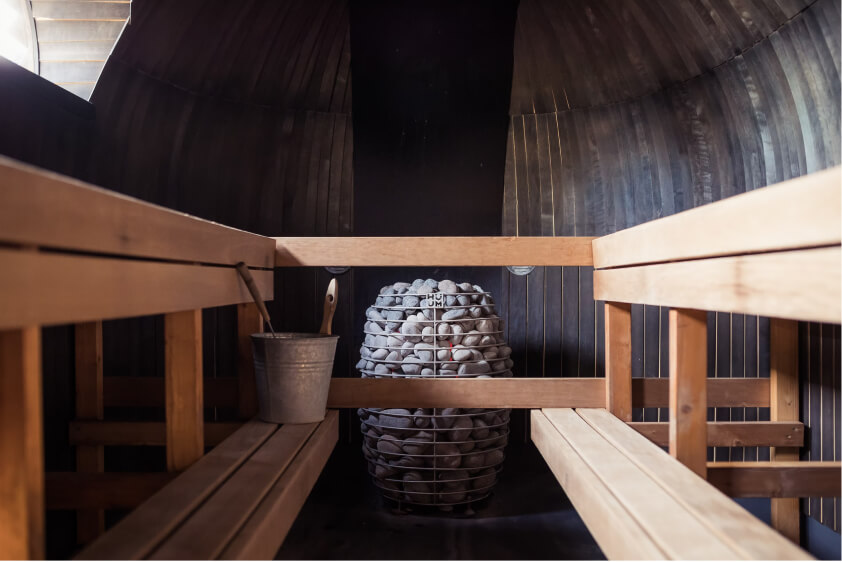 Sauna + Meeting room offer with food and drinks
Book sauna, meeting room, drinks & food from the restaurant and receive 30% off regular prices.
Package includes sauna seat covers, shampoo, shower gel, towels, sauna, resting room, meeting room with kitchen and fridges and large table for up to 20 people.
Request information
Food + Drinks delivered to Sauna
---
When renting a sauna, you can order any drinks and our entire restaurant menu to be delivered to you.
See menu